Here is a guest blog from an old friend whom I consulted about the upcoming big day in our family, my daughter's graduation. Her advice was so sound that I thought a few others might benefit. My friend wishes to remain anonymous but I can assure you – she absolutely knows what she is talking about.
A beginner's guide to looking good on graduation day.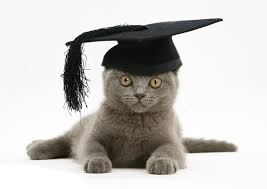 For some archaic reason in the next few weeks 10s of 1000s of young men and women will  dress up in the medieval outfits that represent formal 'academic dress'. Wearing them, they will hear their name read out, then walk, march, or in some cases scuttle across a stage in front of 100s of peers, 100s of strangers and their own proud family group. They will be greeted in the middle of the stage by a (usually) elderly (usually) man who will smile, shake their hand, murmur some unforgettable phrase, and give them a precious (but fake) certificate. This will take around 5 seconds. This is a celebration of the culmination of 16 years of formal education.
It's odd that we still wear such attire. It's odd that women and men wear the same outfit and it's odd that the fact that this outfit is entirely unsuitable for women is never discussed. As a professor I also have the privilege of dressing up every year in my medieval  academic 'dress' and sitting on stage to watch 100s of excited young people receive their degrees. We never ever wear them any other time (as least outside the boundaries of Oxbridge).
Every July,  I don an academic 'dress' which is designed for men wearing a formal suit. Over decades of trial and error I've worked out how to wear academic dress well. If you are a woman and this is the first time you have had the chance to dress up for graduation, or if you are the proud parent of a daughter about to graduate here are my top tips for making academic dress work for you.
The gown. Ok the gown. This is an unstructured, shapeless, draping, cloak like garment that is worn open at the front. It falls to mid calf. It has no equivalent in modern dress. It has no pockets and no means of fastening. Sleeves are full and three quarter length. The shoulders are usually structured. An undergraduate or masters degree gown is typically black, a PhD or DPhil gown is typically scarlet.The gown is not a flattering garment for women. I've watched 1000s of young women do the walk in academic dress, and few do it with style. You have to wear the gown and not let the gown wear you. You need to stand up. This is a day when heels are your friend. Unless you are atypically statuesque the effect of wearing an academic gown is blobbish. A blob in flat shoes is more blob like. A blob wearing an unstructured black gown with wide black trousers and flat shoes disappears under the visual dominance of the gown – 100% blob.The gown is open at the front. Your clothing will be seen. Think about how it will work when covered by a black shapeless bag. You need to wear the gown, claim every one of your vertical inches, walk tall and look the world right in the eye (yes that's the late great Val Donican). If you are wearing a shirt or dress make sure it is either shorter than the gown, knee length is best, or much longer – ie floor length. If you are wearing trousers keep them slim and consider heels. Not 5 inch heels – you have to climb up stairs and walk, not totter, across a stage. So heels in which you can walk tall are essential.Oh yes and gowns are hot. Graduation is usually in summer and graduation halls are hot. Don't wear a jacket, a shirt, and a gown unless you have to (or are a man).
The hood. The hood is not an actual hood that you put on your head. It consists of a brightly coloured swatch of material that lines a length of black fabric (same material as the gown) that sits on top of the gown and down your back to about bum level. Usually the colour of the hood denotes the type of subject you are graduating in – science, arts, humanities, social science.The hood is glamorous. It should flow. The hood sits across the chest, rests on the shoulders and hangs down the back in a kind of waterfall. The art of wearing a hood is balance –  from front to back. The weight of the hood falls down the back and is held at only one point in at the chest. The hood is secured at the chest by a loop that fits over a shirt button (worn typically by a man). It sits flat across the chest and rests over the shoulders before widening out and flowing down the back.Imagine the difficulties faced by the majority of young women who are not wearing a suit, or a shirt with buttons. How exactly do they secure this precarious swatch of heavy material? How do they pull off the art of balancing the hood across their chest, over their shoulders and down their backs with nothing for it to hang on to? How do they glide across the stage in their academic dress in confidence?They don't. There is a frenzied scurry for safety pins. There are never enough to go round. Hoods are pinned to bras, dresses or silk tops. The hood is heavy, bras, dresses and silk tops are no match for them. Hoods, dresses, bras and blouses are tugged, pulled, and adjusted. Hoods slip off women's slender shoulders and risk falling off completely.Make it easy on yourself. At graduation you've got two options. Both options require buttons down the front and you need buttons that can hold onto a hood, don't shift about too much and don't ride up to your chin when the weight of a hood is hanging off them.Option 1 is a suit. Suits and a shirt emulate the male uniform and make this easy. They give you a bit more shoulder on which to hang the hood. Suits can feel a bit corporate, a bit aging, and definitely uncelebratory. If the suit option is for you then great – keep the trouser shape slim or the shirt knee length and don't forget heels (see 1 above).

Option 2 is a dress. But not all dresses. Not floaty, filmy dresses. The dress needs buttons too (obviously). It needs buttons in front and it needs to be fitted. A clear waist helps keep the buttons in place – ie not dragged up under your chin. A dress with structure gives you more confidence and shoulders give you more purchase for the hood. You could even think about working your dress / shoes with the colour of your hood.

The mortar board. What are they for? At least one university (UEA) has banned the traditional 'everyone smile and chuck them all in the air' class photo opportunity? They are a health and safety risk it seems. If they are now not to be thrown aloft in the class photo what else could they possibly be for? Wearing a mortar board is like walking along balancing a book on your head. It might improve your posture but it's perilous to do it on a public stage.Order your mortar board with care. Measure your head and work out your head size. Don't guess. If you do, it will either perch on top of your head like a pin head or will slip off completely or fall over one eye. Get the size wrong and you will be holding it, pinning it in place, and worrying about it falling off.Mortar boards flatter few of us. Think of it as a prop, simply for the photo your proud parents will display for ever. It won't do you any favours but do it for them. It's only one day in your life, captured for a life time. Wear it at an angle, tip it to the back of your head, work out where to dangle the cord. If you have long hair don't wear an up do – where would the hat sit? If you have short hair will you look hairless under the mortar board? Those of you with a bob probably have the best options.
 The whole thing. If you can, pick the outfit up a day early. Check everything fits and change it if not. The outfitters are ok with this. Practise wearing it – and the outfit, shoes and make up. Get help with the hood and how it lies down your back.
Take your time to feel right in this get up. You did good, you deserve this. More importantly your parents do so give them so give them good photo opportunities. Enjoy every moment of this archaic but glorious ceremony.