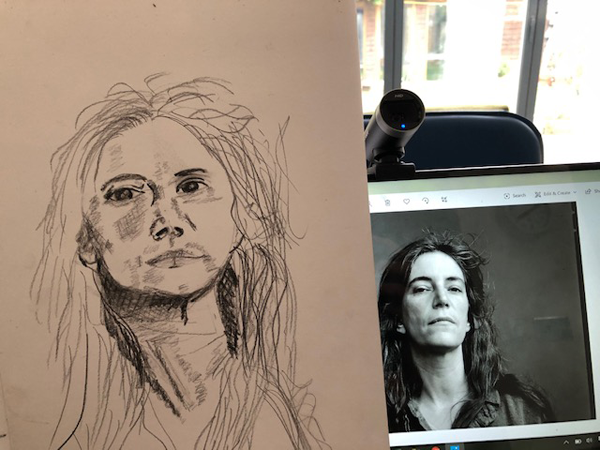 My lockdown, like everybody's, has been very personal and a mixed blessing. I evacuated myself to a family farm and spent 10 weeks re-learning how to live in a houseful of 7 adults with strong characters. As my daughter told me firmly, this was after 10 years of 'having everything my own way'. (Not quite how I saw it.) I hired a room in an abandoned beauty parlour, accompanied by a thousand bottles of shiny nail varnish, mystery unguents and massage tables. I got fitter, got fatter, got confused. Got a tiny bit miserable, got a lot miserable, had a lot of laughs, tried to stay grateful and enjoyed the county dramas.
I was surprised at how much I missed all the routines and things that made me feel like myself: the stuff I like to cook, spaces I use for different activities. Neighbours I chat to. It all started to add up to not feeling very much like me, on top of a whole train-load of anxiety about whether I would ever be able to have a functioning business again.
What delighted me and saved me from disintegrating during lockdown was a bit of a surprise. A random thought about 'maybe learning to draw'. I've always believed myself to be hopeless with a pencil and sketchpad, but I thought maybe a good teacher wouldn't mind that. We scheduled a few weeks' test lessons.
It was a revelation. Turns out that learning to draw is about learning to see. Learning to see is not just learning to use my eyes, but also about switching my brain off, pushing away my ideas of how I *think* things look, and seeing how they *actually* look, through half-closed eyes. Seeing the tones and not the outlines. Seeing the shadows, not the thing. Seeing the 'negative' spaces around as the way of defining the object. It can be mentally exhausting, presumably because I am learning new neural routines. Some lessons actually make my head hurt and I feel I need a little nap afterwards; though they can also leave me energised and just plain thrilled.
Apart from learning a new skill, learning to draw has had major other side-effects.
Firstly, it has the same kinds of benefits for me as meditation. My expert mindfulness coaching friends might explain better, but it is probably the very intense focus, which is wordless. It feels as if I am switching off my usual working mode and learning to use something else, to go somewhere else, to connect with something else. The wordlessness is a complete blessing and I have to learn to trust my eye and hand to express something. What a relief. I am sometimes so bored with my words. It's delightful to have a meditative activity that doesn't involve trying not to think.
Secondly, it's amazing to have one's self-concept over-turned. My message to myself that I couldn't do something. What nonsense.
So what I actually discovered was nothing to do with art. It's more about if we want to change ourselves, where we start doesn't have to be the thing we want to change to. Doing anything different can shift how we see ourselves and who we are. The pandemic has forced us all into different ways of being, and whether we chose to take up something new or quietly adapt, we won't be able to go quite back to being the same. We will all know that we can be different, that we can change, that we have agency and choice and resilience.
It's the same for organisations, but that's a different blog. For now, I'm just happy about my own possibilities, and looking forward to shading in Patti Smith's cheekbones.